Creating checklists is a great way of gathering information. Mobile checklists, in particular, provide convenience and efficiency for all users as it makes collecting data quick and easy.
Paperless checklists also remove the hassles that come with paperwork such as incorrect information, damaged forms, and illegible handwriting.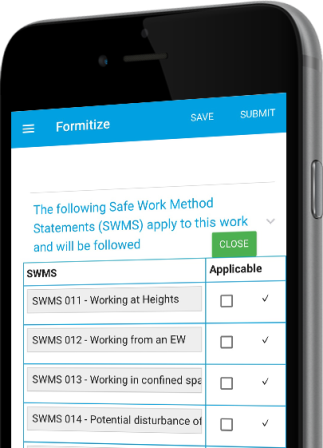 Create Customized Checklists
Formitize enables you to create your very own checklist using our business solution. You can send us a sample checklist and we will build that first form for you. We'll hold your hand and guide you in building your customized checklist.
You can build your own checklists based on your existing business process. Create your very own personalized checklists and use them in your daily workflow. Formitize lets you do all this and more!
Special Features
We've got a drag and drop feature in our mobile forms that's powerful and easy to use, especially when making checklists. You also have access to advanced features such as signature and GPS recording, drag and drop job scheduler, drawing tool and a lot more.
You can also use Formitize voice to text and recording, QR barcode scan with lookup, photo capture and drawing, calculations and required fields, and automated workflows. You can add these options to your new, customized checklists.
Get ready to revolutionize your business processes with mobile checklists!