Next generation asset management
Smart, mobile & fully integrated. Welcome to the next generation of Asset Management.
Assets Connected and so Incredibly Simple to use
Smart, mobile and fully integrated.
The Formitize Asset Management Module benefits from the seamless integration with other Modules including CRM Customer Database, Client Locations, Job Management, Recurring Job Profiles and Smart Forms.
Welcome to Smart Asset Management.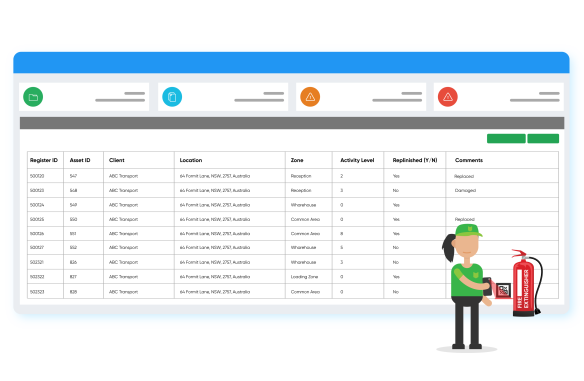 The Asset Register
The Asset Register is your central asset database. The Register shows all of your assets and key asset details for each individual asset. Different Asset Types are managed under separate tabs.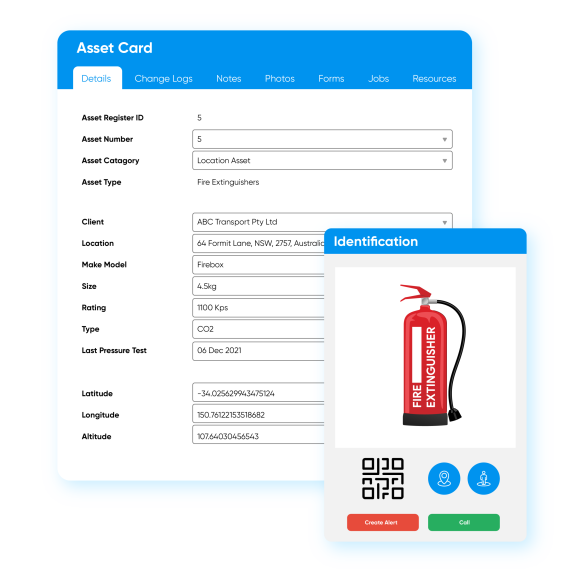 The Asset Card
Each asset has a dedicated Asset Card that stores and manages all information and details related to the Asset.
Asset Management also includes:
Reminders
Automated reminders can be created related to the Asset.
QR Code
Automatically created to link to the Asset Card. Print with or without logo.
Map & Street View
Shows current asset location with street view.
Forms
View all forms completed that link to the Asset.
Create Alert & Call
Enables end-user clients to trigger alerts or call you from the Asset.
Change Log
Tracks all changes to any asset record.
Photos
Attach multiple photos for each asset with GPS coordinates grabbed.
Jobs
View all jobs undertaken that are linked to the Asset.
Documents
Attach documents related to the Asset such as Operating Manuals and Safety Guidelines.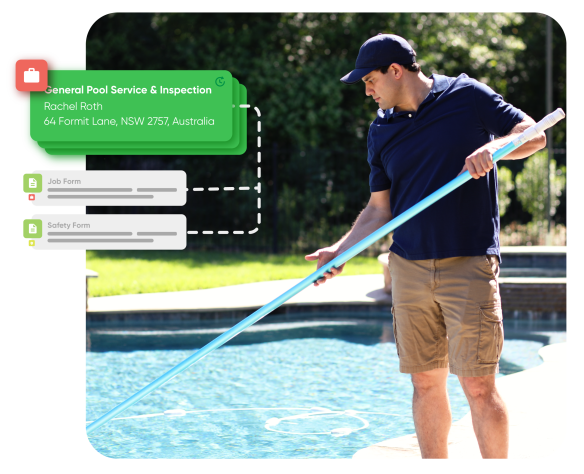 Job Management
The advanced Job Management solution enables both one-off and recurring jobs to be created, dispatched and managed via the integrated scheduler. both Job Forms and Safety Forms are automatically attached that relate to the Asset-based on the job type being undertaken.
View the status of jobs in real-time and the integrated Job Status Updates and Future Job Reminder features automate communications by email, SMS and notifications keeping your clients and your team updated all the time.
Smart Form Integration
Smart forms can be built to manage and record all of the different activities linked to an asset. Different forms can access different information from the Asset Card for each different scenario such as: Maintenance, Work Orders, Inspections, Audits, Safety Checks, Activity Monitoring.
You can use the drag and drop Form Builder to create your own smart forms exactly as you need them – to collect and report on exactly what your business requires (or send the form to us and we'll build it for you!).
The smart forms can both pull information from, and push information back, to update the Asset Register automatically. All forms that interact with an Asset are recorded in the Forms tab of the Asset Card so that the source of all related forms and changes can be instantly viewed and tracked.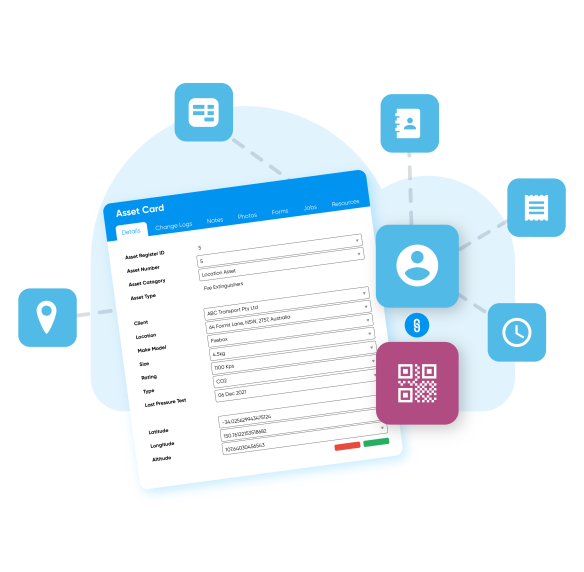 Linking Assets to CRM
The Asset Management module automatically links to the Customer Relationship Management (CRM) module so all clients, contacts and locations are automatically connected.
An "Asset" tab in the Contact page of the CRM lists all Assets related to that client.
This enables instant communication with account contacts, automated communications, task management, job visibility, document management and everything automatically recorded.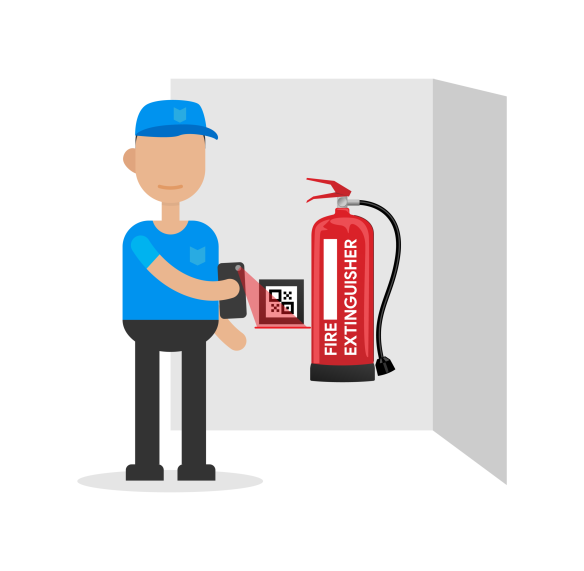 QR Code Integration
A QR code is automatically generated for each asset added to the Register. You can still use your own asset numbering and barcode systems, however the QR code provides a direct link to the Asset Card from the field. Users with permission can simply scan the QR code in the field to access the Asset Card and all related asset information.
This is especially useful in viewing the Asset History and Notes and in viewing the related Asset Resource Documents such as Operating Manuals, Licences and Safety Material.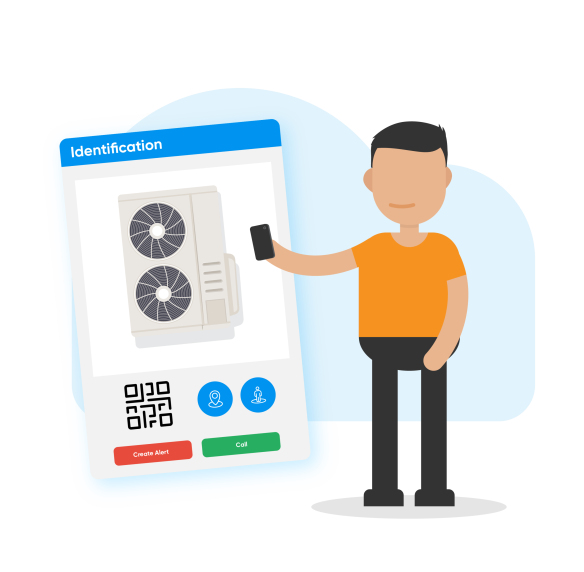 Customer View
You can enable your customers to access the Asset Card directly by scanning the QR Code.
From the Asset Card your clients can see the related Asset Details and click the "Create Alert" or "Call Us" buttons enabling the client to contact you directly from the Asset. The Alert email includes all related asset information for rapid identification and action and the "Call Us" button will call the Assigned Asset Manager's number automatically.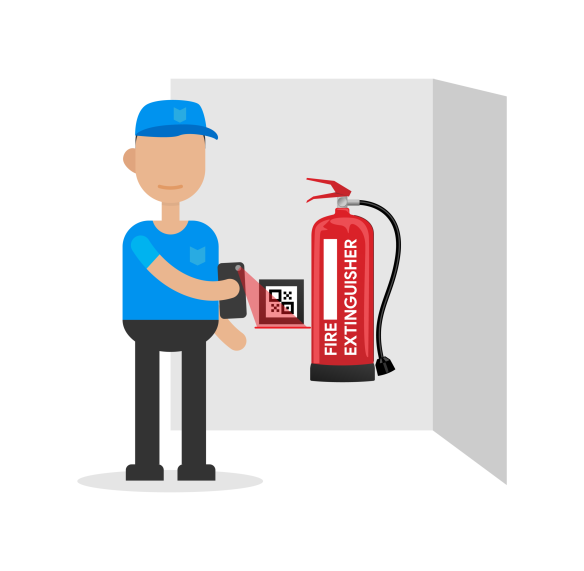 Add-on Asset Management only $19.99* a month!
*Assets is an Add-on Feature for clients that wish to opt-in. Pricing is $19.99 per month for Business Clients while Enterprise Clients start from $250 per month.
Assets Activation $150 for standard and $300 for Enterprise.
All prices exclude GST for Australian entities.
Famous for Incredible Support
Your dedicated Client Success Manager will be there with you throughout your journey.
We can't wait to chat and discover how we can help you get paperless and improve the way your business works.
Give your business the edge