Paperless Inspection Solutions
Trusted by so many of the world's industry leaders.
Everything you need to deliver efficient, paperless inspection solutions.
It's time to transform your inspection processes and reporting.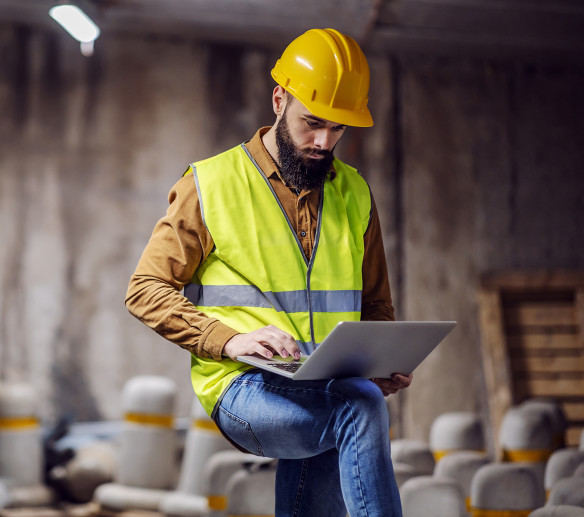 Convert Paper Inspections to Smart Inspections
Using the Form Builder you can replace your old paper forms with smart mobile forms. Collect exactly the data your business needs, just in a smarter way.
Improve your Inspections
Smart tools to help you
be more efficient and accurate
Signatures & GPS recording
Capture onscreen signatures, automated time and date stamp and GPS location to provide incredible compliance, visibility and accuracy (and save a whole lot of time too)
Voice to Text & Recording
Integrated Voice to Text will change your life. Simply click and speak and watch your longer sentences and descriptions convert to text, so fast and so easy to use.
Match your Process
Rearrange the Form so that it matches your Reporting Process. Adjust to suit the way you approach a property or room inspection to give a personalised experience.
Photo Capture & Drawing
A picture tells a thousands words. Embed photos into your forms from the device camera or library. Integrated drawing tool enables draw on photos, plans, mudmaps and more.
Calculations & Required Fields
Avoid calculation errors forever with automated calculations and Required Fields prevent the form being submitted until all mandatory fields have been answered.
Automated Workflows
Trigger automated actions and workflows based on form submission or answers given to specific questions. Powerful, business transforming automation that is so easy to use.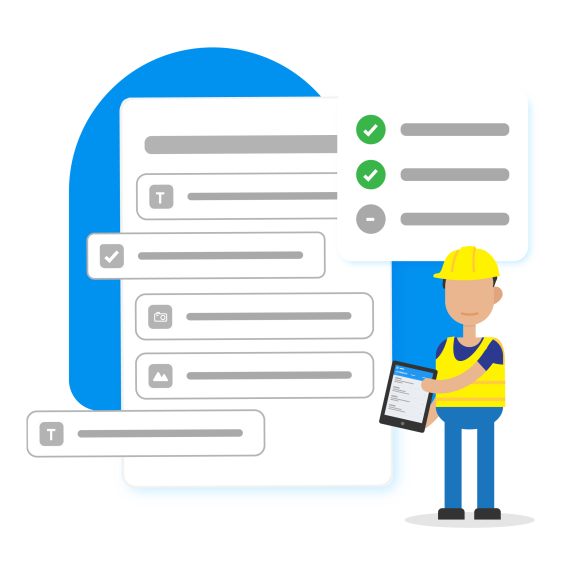 Drag and Drop Form Builder
Drag and Drop Form Builder
Create your own forms with the smart drag and drop form builder. More than twenty awesome tools included to build forms perfectly suited to your business.
Smart Logic
Add Smart Logic to Save Time
Smart logic means the forms only show the information required. Routing questions based on responses saves so much time and mandatory questions means all required fields must be completed before submission.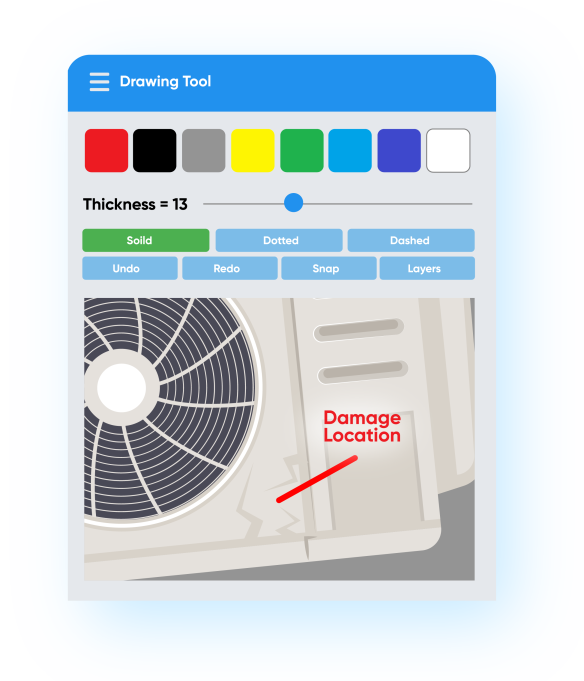 Draw on Photos
A picture tells a thousand words.
With the integrated drawing tool, you can take photos, draw on them, and even add text for additional details. Images can be embedded in PDF reports automatically or stored as individual records.
Drag and Drop Icons
Drag and Drop Icons
Dedicated legend icons can be added to your forms to perfectly suit your business drawings. The icons can then be simply dragged and dropped onto the drawing. The perfect tool for bait stations, electrical points, plumbing fittings and so much more.
Import & Draw on Plans
Import & Draw on Plans
Easily upload site and floor plans or attach them to a job for field users to access and update. Multiple option drawing tool adds many features.
Integrated Tasks & Workflows
Integrated Tasks & Workflows
Once a form has been completed, automated tasks and workflows can be triggered based on either a single form field result or the status of the form. Any form can have a task or workflow link. The Compliance Register adds even more workflow options and is the perfect tool for non-compliance and risk management processes.
Online Webform Inspection Agreements
Open and pre-populate your Agreement
Pre-populate your Agreements with known details such as Client Name, Property Address, Inspection Details and Pricing before sending weblink.
Email Templates with embedded weblink
Email the Agreement weblink using template to pre-populate information automatically to save time. The email contains a weblink for the client to simply click to open.
Customer signs Instantly on screen
Your customer views the agreement on phone tablet or desktop, signs and receives instant copy with your client file instantly updated.
Testimonials
Don't just take our word for it
Famous for Incredible Support
Your dedicated Client Success Manager will be there with you throughout your journey.
We can't wait to chat and discover how we can help you get paperless and improve the way your business works.
Give your Inspection Business the Edge